The Bayeux Banquet
$405.00 – $645.00
The Bayeux Banquet is woven in two sizes:  27″x63″ and 36″x86″ . See tapestry description below.
To order: use the drop-down arrow below to select a size (the price will then show), select quantity and click on the red button to enter the securely encrypted shopping cart (as secure as online banking). You can pay using Visa, Mastercard or American Express, and then we'll confirm receipt of your order.
To view a larger image just click on the photo on the left, afterwards use the back button to return to this page.
Tapestry Description
The Bayeux Banquet
Duke William
The Bayeux Banquet tapestry shows Duke William and his lords enjoying a banquet before the Battle of Hastings. It is from the famous embroidery showing the history of the Norman invasion of Saxon England from the death of King Edward the Confessor through William the Conqueror's invasion to the decisive Battle of Hastings in 1066. Today it is displayed at the Musée de la Tapisserie de Bayeux in Bayeux, Normandy.
This medieval wall tapestry is woven in Belgium today in a 72% cotton, 19% trevira and 9% wool weave which gives full and depth with good detailing. It is fully lined, with a rod pocket for easy hanging – we provide tapestry hanging information with each order. A longer tapestry of the fuller banquet scene is also available.
This detail shows Odo Bishop of Bayeux giving a benediction at the banquet table (he was Duke William's half-brother):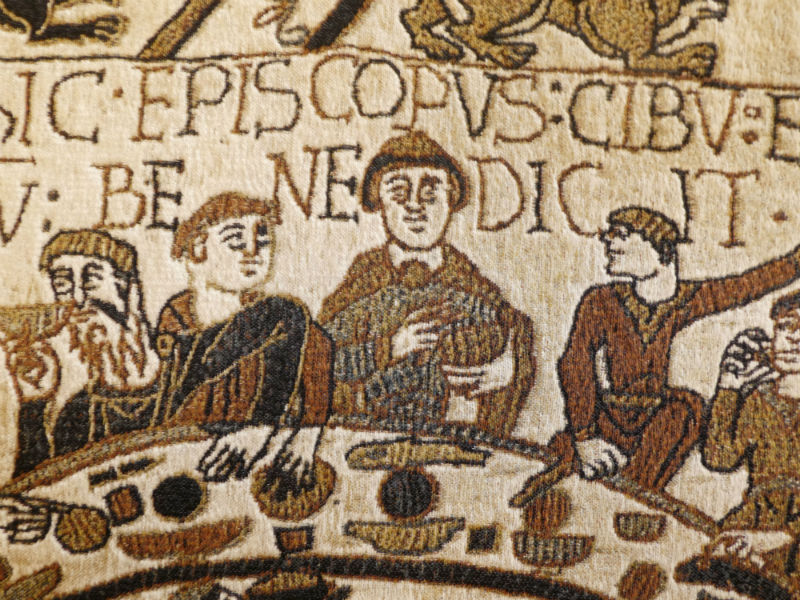 Our Bayeux Tapestry selection is woven by four different weavers in France and Belgium. These are Belgian tapestries from one company there which all have the same yarns and colour tones – this list can be handy when hanging Bayeux tapestries together so that they match.
https://tapestry-art.com/tapestries/the-battle-of-hastings-tapestry/
https://tapestry-art.com/tapestries/navigio-from-the-bayeux-tapestry/
https://tapestry-art.com/tapestries/bayeux-tapestry-banquet/
https://tapestry-art.com/tapestries/the-bayeux-banquet/
https://tapestry-art.com/tapestries/mont-st-michel-in-the-bayeux-tapestry/