The Last Supper tapestry
$195.00
The Last Supper tapestry is woven in one size: 26″x62″ . See tapestry description below.
To order: select quantity and click on the red button to enter the securely encrypted shopping cart (as secure as online banking). You can pay using Visa, Mastercard or American Express, and then we'll confirm receipt of your order.
To view a larger image just click on the photo on the left, afterwards use the back button to return to this page.
Tapestry Description
The Last Supper tapestry
Leonardo da Vinci fresco
The Last Supper tapestry is a longer version of another popular tapestry (measuring 26″x43″) showing this Leonardo da Vinci masterpiece. It is woven in Italy in 53% viscose, 41% cotton and 6% polyester. The tapestry is fully lined and has a rod pocket for easy hanging – we supply instructions for hanging tapestries with every order.
We have several versions of the late 15th century Leonardo da Vinci fresco in the Convent of Santa Maria della Grazie in Milan available today as wall tapestries.
Here is a larger image of this popular Italian tapestry:-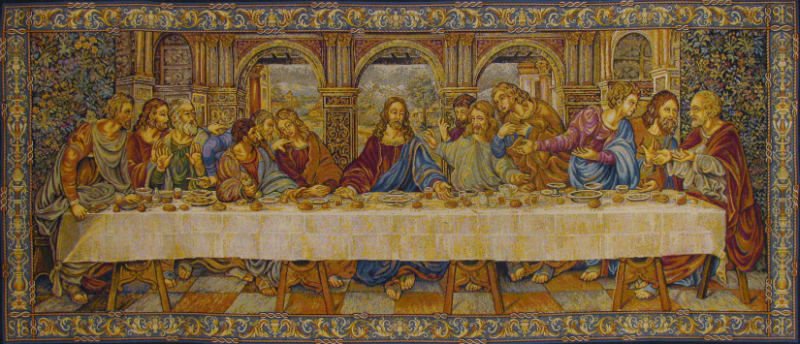 and here it is hanging in a church library: