Sale!
The Promenade with 2 figures – only 1 left! – Sold out
The Promenade with 2 figures tapestry is available in one size: 39″x25″ and is on sale!
To order: use the drop-down arrow below to select a size (the price will then show), select quantity and click on the red button to enter the securely encrypted shopping cart (as secure as online banking). You can pay using Visa, Mastercard or American Express, and then we'll confirm receipt of your order.
To view a larger image just click on the photo on the left, afterwards use the back button to return to this page.
Tapestry Description
The Promenade with 2 figures
Scenes from Lordly Life tapestries
The Promenade with 2 figures tapestry is a fine mille fleurs tapestry from the series of six tapestries called La tenture de la Vie Seigneuriale. These Scenes from Lordly Life tapestries were woven in Brussels in about 1520. This tapestry shows two of the five beautifully dressed people in front of the mille fleurs (thousand flowers) background of such flowers as marigolds, speedwell, hyacinths, daisies, periwinkles, violets, pansies and Solomon's seals.
The Promenade (The Walk) is one of our favourite medieval tapestries so we were delighted to see it at the Musée National du Moyen Âge (Cluny Museum) in Paris. Today it is woven in Belgium in 89% cotton and 11% polyester and is lined, with a rod pocket for easy hanging. You can also purchase the full Promenade tapestry with five figures or a detail with just the lady on the left side.
Here is this superb Belgian tapestry in a medieval-styled room: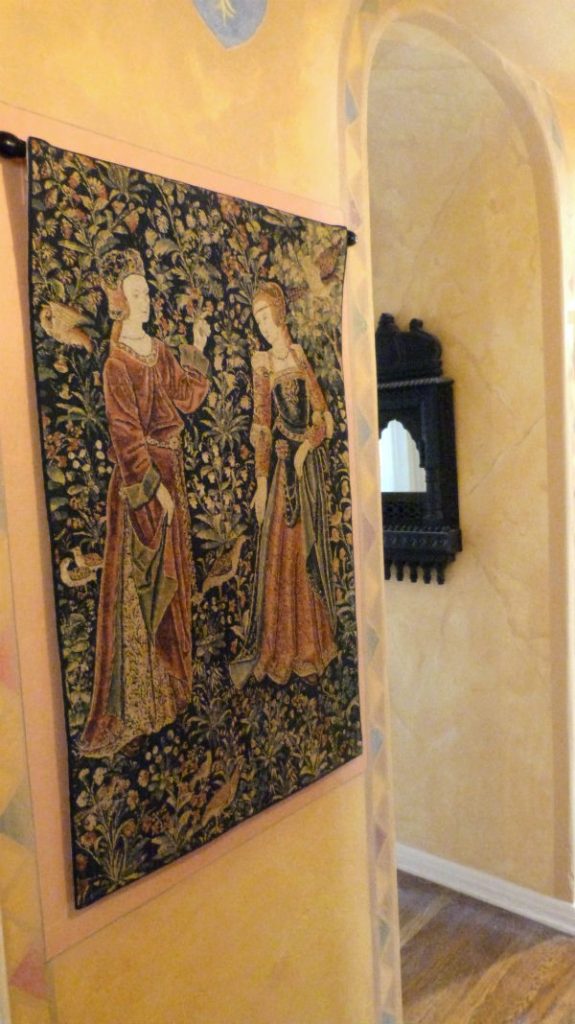 Save