Medieval Tapestries
Lady with the Unicorn tapestry wall-hangings
Medieval tapestries are mostly from the late 15th and early 16th centuries: the peak of tapestry weaving excellence. Many consider the Lady with the Unicorn tapestry wall-hangings at the Musée de Cluny (Cluny Museum) in Paris as epitomizing their purest form.
We are pleased to offer a wide selection of medieval tapestries – also featuring the famed Bayeux Tapestry, and those celebrating grape harvests, wine and feasts, scenes of knights and castles, and other unicorn tapestries.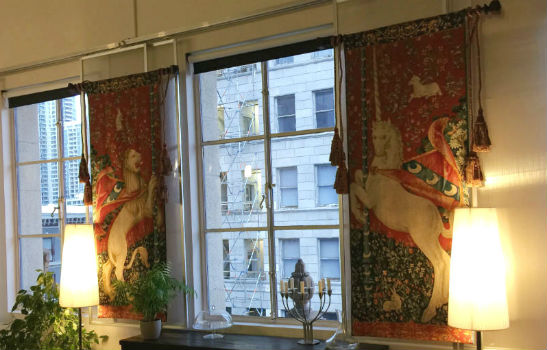 Ordering medieval tapestries
To view and order any of these tapestries simply click on a photograph below of a selected category. Then you will see all available designs within that category.
We hold many tapestries in stock for prompt shipping which is free to North America or sent worldwide from $30 USD. We make no charge on credit cards until we ship, and there are no sales taxes for customers outside Canada. All are woven in France, Belgium or Italy and they are lined with a rod pocket for easy hanging. We have been selling fine wall tapestries for over 20 years.